ASHTANGA
Ashtanga Yoga is the Eight Limbs of Yoga, a 5,000 year old practice is one of the few yoga methods that has maintained its roots in the West. It is progressive and productive. It's physically vigorous. It's mentally challenging. Spiritually speaking, it will wake you up.
Ashtanga Yoga, as taught by Sri K. Pattabhi Jois of Mysore India, combines Ujjayi (sound breathing), bandhas (internal energy locks) and drishti (specific gaze points) in specific sequences of asanas linked by vinyasa (coordinating breath with movement).
Primary series, which includes 65 inclusive postures and specific transitions, is known as Yoga Chikitsa (yoga therapy), detoxifying and realigning the body and its systems.
AN ASHTANGA YOGA CLASS AND PRACTICE
Everything that moves us forward mentally and physically – in life and in yoga practice – happens at your Edge, a place of productive discomfort in both body and mind. In these classes, you will learn to work with this important state of being as well as energy locks, breath and other cool tools of Ashtanga yoga. Instruction will accommodate all levels of ability and focus on developing a home practice. Don't just go to class. Get a practice.
INTRODUCTION TO ASHTANGA PRACTICE:
ASHTANGA IS A MOVING, FLOWING AND SWEATING MEDITATION ON THE BODY. This class will teach you where and how to start an Ashtanga practice with an emphasis on the techniques and tools used to develop a transformative and safe practice that will continue to grow and challenge you both mentally and physically. Ashtanga is an athletic flow combining strength, flexibility and stamina for a complete practice.
Elements of breath, band has (internal energy locks) drishti (gazing points), and Vinyasa (flow) will be the emphasis in this class. Each class will build on what was learned previously. No experience required.
The focus of Ashtanga Yoga is an intentional contrast to what Tracey calls the "the soft westernization of yoga," which she believes overemphasizes relaxation and affirmation at the expense of transformation.
"Yoga is supposed to be a struggle. If something is not difficult, there's no journey involved. If there's no journey involved, you won't get very far."
Difficult doesn't mean not fun. In fact, the challenges built into the work make it more meditative and enjoyable and often lead to moments of lightness. Most important, the structure of Ashtanga's 5000-year-old sequence is designed to be safe and form the basis of a regular practice. One which leads to transformation. "You don't transform into someone different," Tracey reminds her students, "you break through the stuff that's in the way — and transform into who you really are."
2015 CURRENT ONGOING CLASSES:
LED PRIMARY SERIES:  (not currently in session)
In a Led Practice Class, the teacher will verbally lead  the entire group through the primary series. If you are not yet doing the entire primary series you will stop at your usual last asana and then either,
1. wait for those going through the entire series and re-join to do back-bending and the closing sequence or,
2. continue on your own into the closing sequence. Keep in mind that visual learning is very valuable.
A led class is beneficial in helping students to learn the correct vinyasa and breathing system since the teacher is specifically calling out each movement. Doing the full primary series including rest at the end takes about 1.5 hours.
Noon – 1pm:  ASHTANGA YOGA SHORT FORMS at Carrboro Yoga Company http://carrboroyoga.com/
INTRODUCTION TO SELF-PRACTICE GROUP – 4 UPCOMING DATES: Nov. 9&10, Dec. 7&9, 8-10am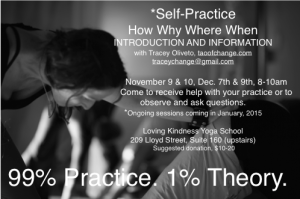 …also known as Assisted Self Practice. You are invited to bring your personal practice (or aspiring practice) to a group experience. You may choose to use or learn the Ashtanga sequence or you may bring in your current routine and be supported in using your own individual breath, rhythm, and current ability. The teacher is walking around the room helping everyone on a one-to-one basis, adjusting or assisting the asanas and generally helping the students to understand and express the practice in a way that is most beneficial to each student's body and circumstances. Ongoing Group Self-Practice Sessions to begin January, 2016.
—————————————————————–
Private lessons are the ideal way to develop and deepening your existing practice and to learn new techniques. From the first session you will get tailored instruction as well as an understanding of your unique journey as an Ashtanga practitioner and feel motivated and confident practicing at home (and/or in various classes).
2015 RATES AND FEES for Private work:
CONSULTATIONS: FREE
PRIVATE LESSONS , 90 min.- 2hrs, sliding scale fees: $50-75 (package rates available for 4 or more sessions.)
SEMI-PRIVATE LESSONS, 2 people, 90 minutes – $85-100 total (package rates available for 4 or more sessions.)
Session locations in Carrboro space or in your home/work space.
Call or email for details.
For appointments or scheduling, call 919-259-0406 or email traceychange@gmail.com.
—————————————————————————————–
——————————————————————————————
YOGA INTEGRATION – mini-workshops and discussion groups available on these topics:

Ten Keys to Health
The Eight Limbs
The Tools of Yoga
The Fundamentals of Ashtanga
Cultivating Practice
Iyengar yoga techniques
The Nine Obstacles on the yoga path

Energy Locks (Bandhas)
Ayurvedics and yoga
The Inner Teacher and Self Assists
Injury Prevention and Back Care
The Chakra System
Phoenix Rising Yoga Therapy
ViniYoga for healing
Your Yoga Identity
Pranayama – Breath Work
Introduction to 2nd Series
Arm Balances
Inversions

————————————————————————–
Links to Tao of Change posts on Yoga Philosophy:

———————————————
More Thoughts from Tao:
Be sincere, not serious
Half of what happens in yoga you do. The rest just happens.
The edge is not the point where you quit.
Millimeters count.
Be where you are. Be who you are.
Yoga = Life = Yoga = Life = Yoga